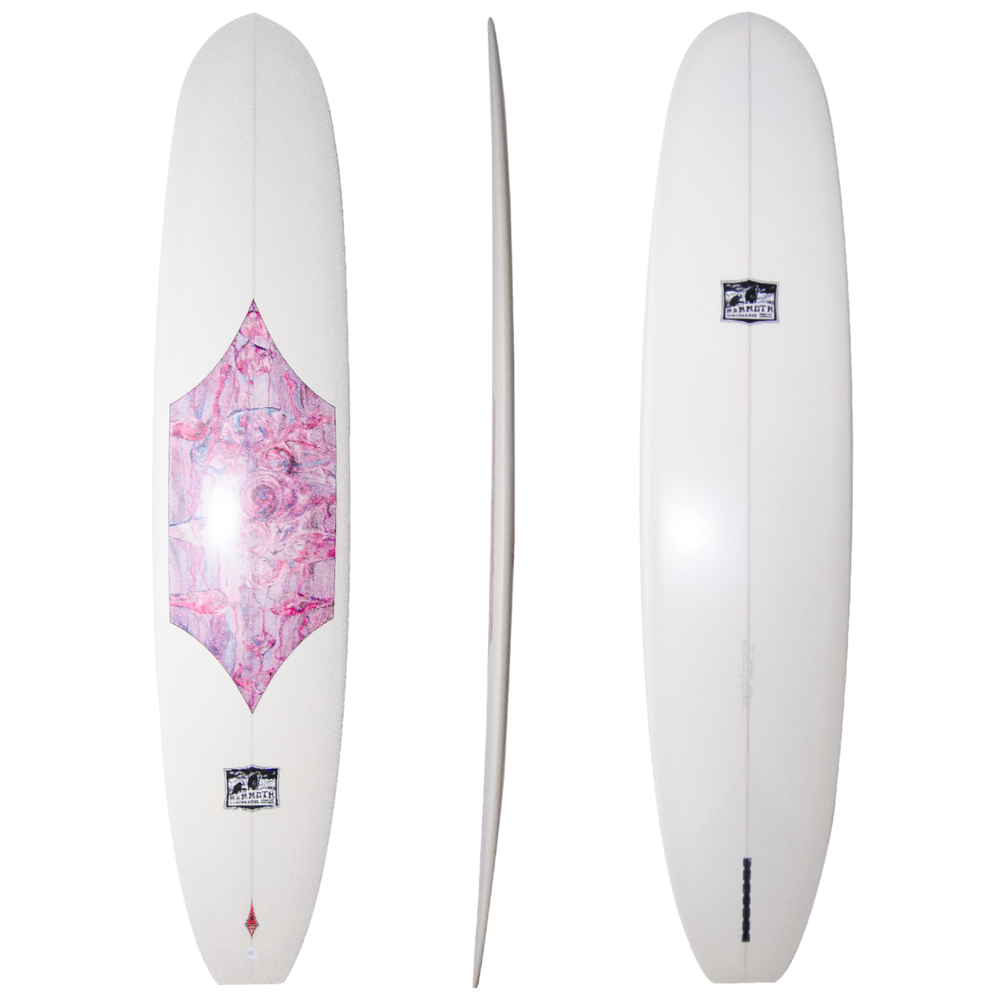 Noserider
8'6" TO 10'
My Noserider is a little different from what you normally see out in the marketplace. The outline is fairly parallel with a lot of nose area but significant curve in the last 24" of the tail. I favour a bit of continuous rocker overall and loads in the tail and find it makes the board fit the wave really easily and noseride great. I keep a light roll in the nose area instead of the deep concave you see in many noseriders. I think that concave lets the board outrun the steepest part of the wave, which is where you need to hang for really good tip time. Another difference is that I prefer to concentrate the roll through the guts out to the rails, leaving the centre section fairly flat so the board is more stable, faster, and less sticky. This board, when paired with a 9" pivot fin you just can't go wrong.

Colours:
This model is available in your choice of:
• Tint
• Opaque
• Semi-opaque
• Swirl
• Clear
Materials:
Bryan uses Burford Blanks exclusively, Silmar Polyester resin, and top quality fibreglass including Volan and "S" cloth. This construction allows for a board which can last 20+ years if looked after properly. This is the recommended build, although EPS/Epoxy builds are possible if flotation is your primary concern.
Price:
$160 per foot, any resin colours/design included. I can not accommodate for external/customer supplied artwork or airbrushing designs. $300 deposit gets your board underway. Balance due upon completion. Discount available on total for cash sales.

$150 for single box or glassed in fin, multiple fin setups vary in cost. All fins handmade by Bryan. All fins besides centre long boxes are glassed on. No fcs boxes..fuck them..

10% of board and fin cost for GST added to total.

Pick up preferred, or Shipping must be arranged and paid for by Customer. Surf Cargo or Surf Freight are preferred Courier agents.
Timeframe:
Please allow 6-8 weeks for your your board to be made. Blank delivery for custom glue ups can take up to 3 weeks. Your board is handshaped, glassed, sanded and finished entirely by Bryan and are made in the order it comes up in the queue. If you need your board by a certain date before 6-8 weeks from paying your deposit, add $250 for a rush order.
To order this board or for more information call Bryan Bates on: 0429 947 178