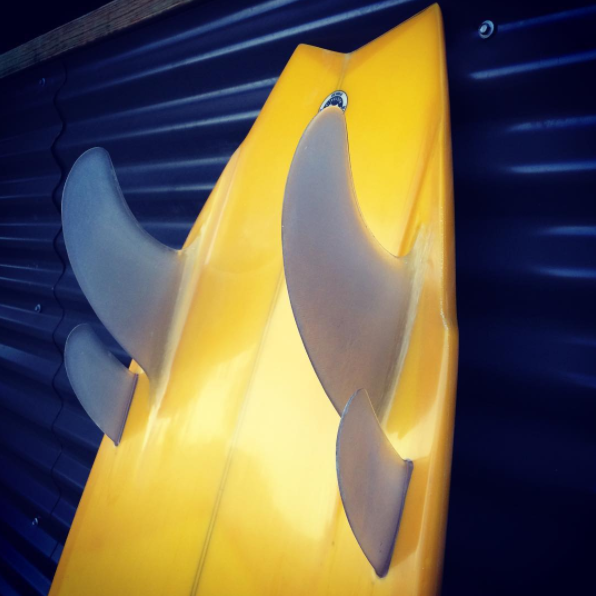 Twinzer
5'8" TO 6'6"
The Twinzer! Anything a twin fin can do, this can do better. Wil Jobson created this original fin design over 30 years ago and he spent some time down in Oregon and left us with our heads spun round about the efficiency and thoughtfulness of this design. The smaller leading fin organises the water flow so the back fin can operate in clean water, much like a jib sail fills the mainsail on a sailboat or drafting behind a vehicle on the highway.
They absolutely sing on a wall and are far more positive than a twinny, meaning you can surf the board harder without spinning out and still have that rad skatey feel that makes twins so good. Fin placement is absolutely crucial for twinzers and is the probable reason you don't see more of them. I router and set the fins into the board so there's no fin fillet and a bulletproof attachment to the board.
This model is somewhere inbetween fish and shortboard and is such a fantastic small wave weapon. I cannot recommend this design enough--it takes the fast, free feeling of the twin fin and adds horsepower and positive grip to the equation. You can square off bottom turns and go vertical yet still overpower and blow out the fins for that great drifting feel at the end of a turn. Best at 5'5" to 6' and around 20" wide.
Colours:
This model is available in your choice of:
• Tint
• Opaque
• Semi-opaque
• Swirl
• Clear
Materials:
Bryan uses Burford Blanks exclusively, Silmar Polyester resin, and top quality fibreglass including Volan and "S" cloth. This construction allows for a board which can last 20+ years if looked after properly. This is the recommended build, although EPS/Epoxy builds are possible if flotation is your primary concern.
Price:
$160 per foot, any resin colours/design included. I can not accommodate for external/customer supplied artwork or airbrushing designs. $300 deposit gets your board underway. Balance due upon completion. Discount available on total for cash sales.

$150 for single box or glassed in fin, multiple fin setups vary in cost. All fins handmade by Bryan. All fins besides centre long boxes are glassed on. No fcs boxes..fuck them..

10% of board and fin cost for GST added to total.

Pick up preferred, or Shipping must be arranged and paid for by Customer. Surf Cargo or Surf Freight are preferred Courier agents.
Timeframe:
Please allow 6-8 weeks for your your board to be made. Blank delivery for custom glue ups can take up to 3 weeks. Your board is handshaped, glassed, sanded and finished entirely by Bryan and are made in the order it comes up in the queue. If you need your board by a certain date before 6-8 weeks from paying your deposit, add $250 for a rush order.
To order this board or for more information call Bryan Bates on: 0429 947 178